Nexus News
The Arrival of Princess Pakma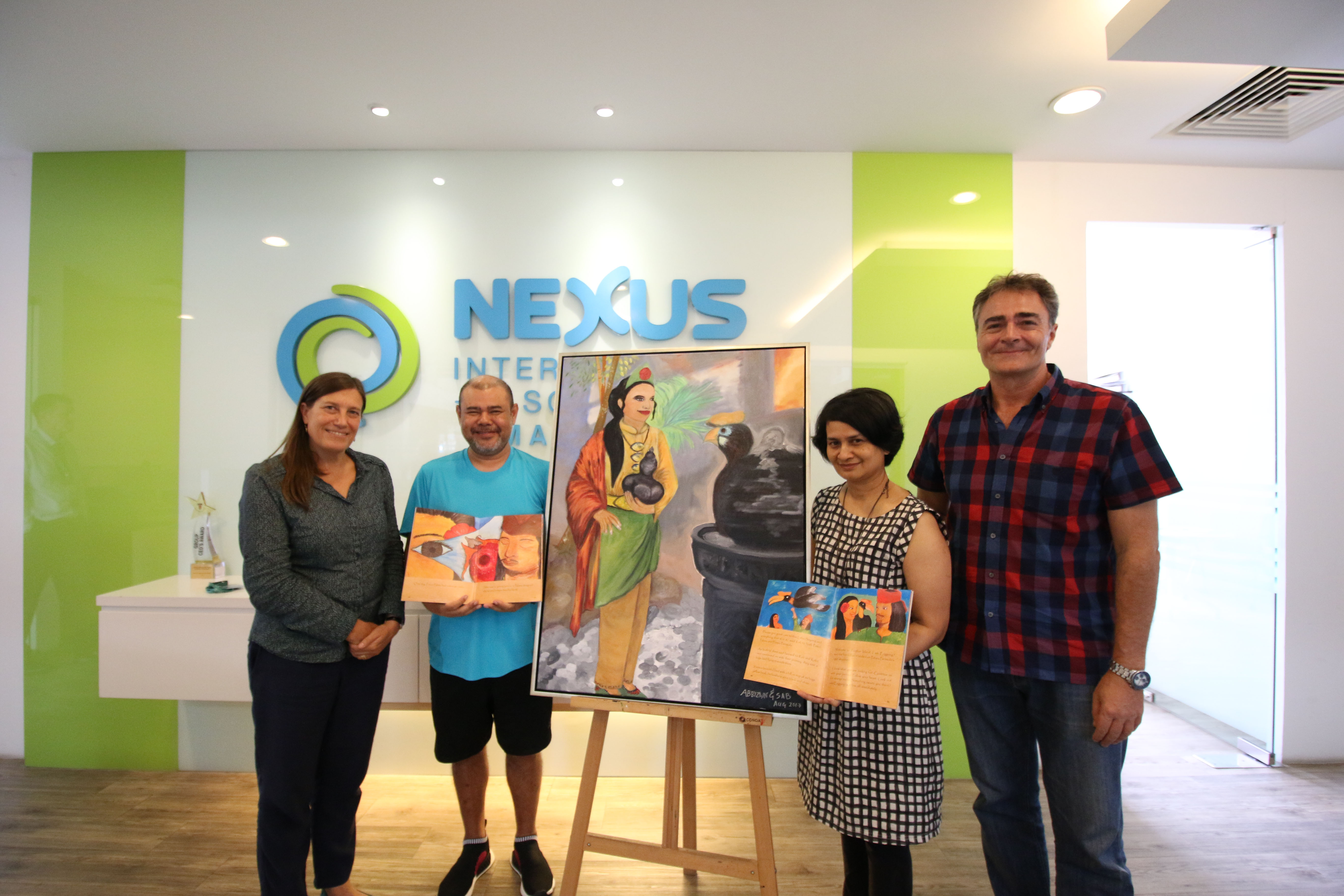 "It was amazing and special. I've never seen one before," shares visual artist Abby Zain with admiration when she chanced upon the Rafflesia flower during her trekking adventure at Ulu Geroh rainforest in Gopeng, Perak.

"With the Orang Asli guiding us, we climbed for another two hours till we finally spot a Rafflesia flower on a steep slope. It was slightly bigger than my head," she describes. "It's the largest flower in the world and I didn't know you can find it in Perak".

As with all inspirations, the memorable experience shadowed Abby for years. In 2013, she finally picked up her paint brushes to complete the first of many Puteri Pakma book series (also known as the Princess of Rafflesia). Featuring the concept of naive art, she is driven to rewrite the common perception about the magnificent bloom. "I'm inspired to give the Rafflesia flower a new image because a lot of people would remember it for its foul smell," shares Abby who also single-handedly wrote and illustrated the book from start to finish.

As you flip the pages of her child-friendly book, Abby's passion for nature and wildlife conservation intensifies as the story progresses. Chosen as one of the National Book Council's 50 Best Malaysian Titles for International Rights, the Puteri Pakma book was also showcased at the Frankfurt Book Fair. Perfect for young readers, it follows the story of Puteri Pakma, a heroine who ventures on a quest to save the tapir from extinction under the wicked clutches of Prince Parawala.

"I want to relate Puteri Pakma with the issue that we're facing in Malaysia such as illegal logging and the extinction of tapirs and rhinos. There is a lot of development happening that we cannot control, but we are still responsible for it," Abby believes. "Every six months, we will hear or read about illegal logging. What can we do to stop it?"

Abby hopes to find answers and solutions from the creative learners at Nexus themselves. The upcoming months will see Nexus' first art collaboration with visual artist Abby Zain coming to life. With the artworks of Puteri Pakma made accessible for viewing, the upcoming art festival will also see interesting activities for learners to tap into their artistic side.

With creativity as the central theme, there are many ways our learners can explore and discover their artistic talent and ability. "I believe Nexus learners can participate in more art excursions, visit local artists and frequent art galleries. They can even visit street artist!" she exclaims.
It is also through Puteri Pakma that Abby hopes to ignite creativity and self-awareness within our learners. "In a way, the book aims to connect creativity with life experiences and local values. Puteri Pakma resembles who we are as Malaysians and it relates back to our origin and truest self," Abby concludes with pride.