At Nexus International School Malaysia, Years 12 and 13 Learners follow the International Baccalaureate Diploma Programme (IBDP). This IB Diploma Programme is a two-year educational course primarily aimed at students aged 16–19. The IB Diploma Programme provides Learners who complete the IB Diploma Course with an internationally accepted qualification for entry into higher education and is accepted by many universities worldwide.

The IB Curriculum is designed to offer Learners a breadth of study, while still allowing for specialisation in areas that the Learners are interested in. We also offer to Learners who do not wish to study the Full IB Diploma Course, the ability to opt to take the Partial Diploma Course (Individual Certificates).

Undertaking the IB Course and obtaining the IB Certification is similar to talking AP or A-Level Courses in many universities.
Why Study IB @ Nexus?
At Nexus, we take pride in that our Learners are among the best and are dedicated to their education. With our IB Diploma Course, we provide our Learners with as much help when it comes to teaching, counselling as well as giving advice and access to our facilities.

We also provide extra support for our IB Diploma Learners, from our dedicated IB Team of educators, to achieve the qualification for higher education and fulfilling their dreams.

Nexus Internationals School Malaysia is also proud to be ranked among the Top 50 IBDP Schools in Asia as well as the Top 2% of Global IB Schools in the world, cementing our positions as among the Top IB Schools in Malaysia. Many of our graduating IB Diploma Learners have achieved outstanding results with a 100% Pass Rate in the last two years and have also achieved an average score above the worldwide score averages in the last two years.

If you like to speak with our Admissions team and teachers to find out more about enrolling in the International Baccalaureate Diploma Programme at Nexus or have any questions about the IB Curriculum, you can contact us here.
 
IBDP subject Information
International Baccalaureate Diploma Programme Learners will be required to complete assessments in six subjects from six different subjects groups along with three core requirements.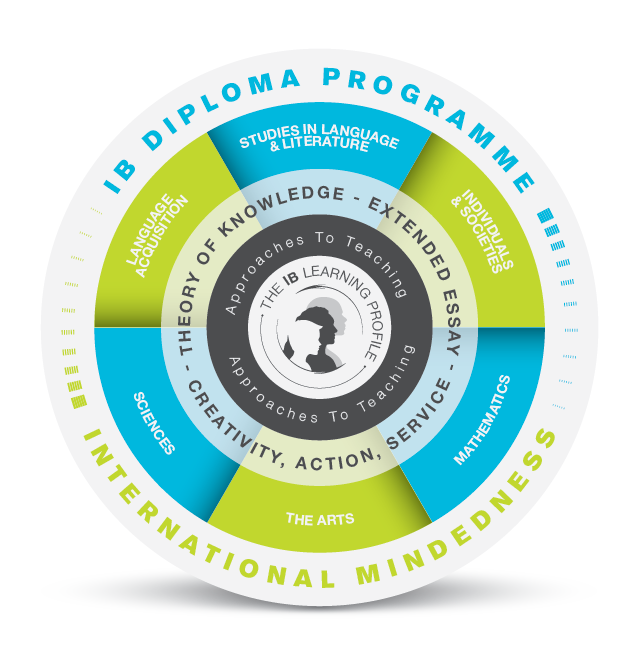 The IB Curriculum subjects are assessed using both internal and external assessment and the IB courses finish with a series of externally assessed examinations. Internal assessment varies by subject (there may be oral presentations, practical work, or written works) and in most cases is initially graded by the classroom teacher, whose grades are then verified or modified, as necessary, by an appointed, external moderator.

IB Diploma Programme Learners follow the Higher Level courses across all subjects until November of Year 12 when they are then guided to make the most appropriate choices depending on their progress and strengths on which 3 Higher Level and 3 Standard Level subjects they should take based on their strengths and their goals.

In addition to the required number of subjects, IB Diploma Learners are also required to complete three IB Core elements which are the Extended Essay, "Creativity, Actions and Service" (CAS) and Theory of Knowledge.
IB CORE
The Extended Essay
Encourages independent research skills.
This is an original piece of research of up to 4,000 words and learners can investigate a topic of their own interest.
Creativity, Action and Service
Encourages learners to be responsible and compassionate citizens.
It can include art activities, individual and team sports and services to the local community.
Theory of Knowledge
Explores the relationship between the various subjects.
This part of the course makes learners reflect critically about knowledge gained both in and outside the classroom.
Nexus International School Malaysia is ranked among the Top IB Schools in Malaysia and hopes to see you consider Nexus as your choice to study the IB Diploma Programme.