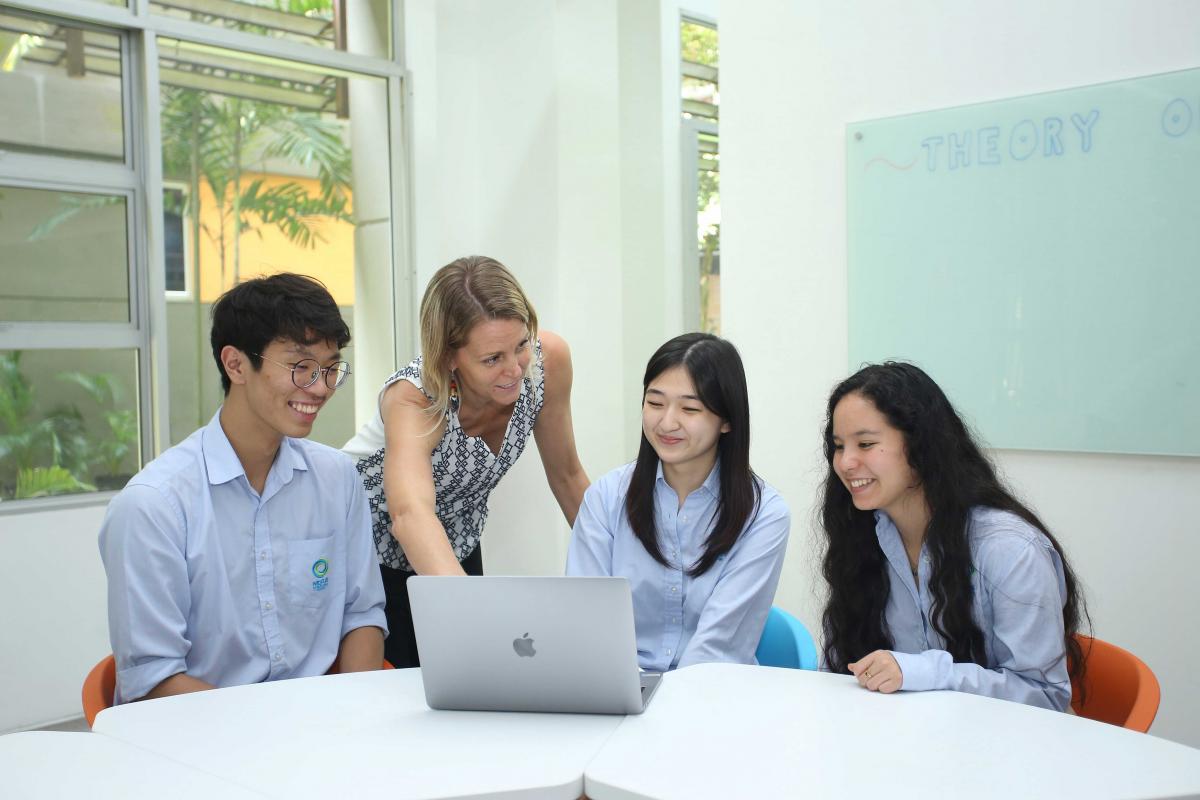 International Baccalaureate Diploma Programme Learners will be required to complete assessments in six subjects from six different subjects groups along with three core requirements.

The IB Curriculum subjects are assessed using both internal and external assessment and the IB courses finish with a series of externally assessed examinations. Internal assessment varies by subject (there may be oral presentations, practical work, or written works) and in most cases is initially graded by the classroom teacher, whose grades are then verified or modified, as necessary, by an appointed, external moderator.

IB Diploma Programme Learners follow the Higher Level courses across all subjects until November of Year 12 when they are then guided to make the most appropriate choices depending on their progress and strengths on which 3 Higher Level and 3 Standard Level subjects they should take based on their strengths and their goals.

In addition to the required number of subjects, IB Diploma Learners are also required to complete three IB Core elements which are the Extended Essay, "Creativity, Actions and Service" (CAS) and Theory of Knowledge.
IB CORE
The Extended Essay Encourages independent research skills.
This is an original piece of research of up to 4,000 words and learners can investigate a topic of their own interest.
Creativity, Action and Service Encourages learners to be responsible and compassionate citizens.
It can include art activities, individual and team sports and services to the local community.
Theory of Knowledge

Explores the relationship between the various subjects. This part of the course makes learners reflect critically about knowledge gained both in and outside the classroom.
Wide Range of IBDP Courses
Some learners have a very fixed idea of what they want to do after school whilst others are not so sure. It is important to make sure that subject choice does not prevent a learner from pursuing a desired course or career. It is also important not to become too fixated on going down one particular path at the exclusion of others
Whilst it may be possible to change the combination of courses early on in the year, it is better to get the combination correct from the beginning. Learners need to:
Be honest about their capabilities. A Higher Level course in a subject for which they do not have an aptitude will be very challenging. Some subjects have a minimum entry level.
Choose subjects which they enjoy and have an interest in. We all work better when doing something we like. 
Base their choices on the facts, not on hearsay. Do some research or ask the Careers + Higher Education Counsellor what the entry requirements for a particular university course are. 
| | | |
| --- | --- | --- |
| Group | Higher Level | Standard Level |
| 1 | Language A: English Language and Literature; Malay Literature; Mandarin Language and Literature | Language A: English Language and Literature; Malay Literature; Mandarin Language and Literature; Self- Taught Language |
| 2 | Language B: Mandarin; English; French; Spanish | Language B: Malay; Mandarin; French or Spanish Ab initio: French or Spanish; Mandarin |
| 3 | Geography: History; Economics; Business Management; Psychology | Geography: History; Economics, Business Management; Psychology |
| 4 | Biology: Chemistry; Physics; Sports, Exercise and Health Science (SEHS); Computer Science | Biology: Chemistry; Physics; Sports, Exercise and Health Science (SEHS); Computer Science |
| 5 | Mathematics: Analysis & Approaches SL and HL | Application and Interpretation SL and HL, Mathematics: Application and Interpretations SL and HL |
| 5\6 | Visual Arts; Film; Theatre Arts; Music or an additional Science or Humanities subject | Visual Arts; Film, Theatre Arts; Music; or an additional Science or Humanities subject |