Nexus News
Novel Knockout!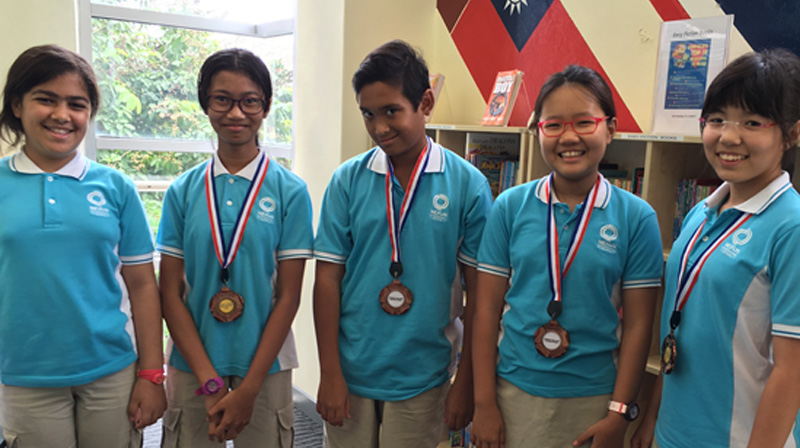 On Wednesday the 11th of May 2016, Nexus International School, Putrajaya entered two teams into the Novel Knockout Competition.
Aleeya, Aqeel, Jeeahn, and Sena from Year 6 made up our Primary team, while Jachym, Jon, Max, and Samantha from Year 8 made up our Secondary team.
Mr Phil from ELL and Ms Ara from Early Years chaperoned as these two teams headed off to Epsom College where the competition took place.
Our learners had started their novel-devouring journey at the beginning of Term 2, and worked their way up to the very last minute before the competition!
First came the Elementary challenge for Primary. They had 8 envelopes with 10 questions to answer within 3 minutes or less.
If the questions were answered within the first 2 minutes, they were awarded a bonus 10% on the points they got for the right answers. If they did not turn in their papers within the allocated 3 minutes, no points were awarded. 
As participants scrambled to answer 80 questions (10 questions from 8 books each) – they also had to answer 80 questions on the Socrative App on the iPad!
That's 160 questions that they had to answer!
The books that Primary had to read are as follows – Danger is Everywhere, The Astounding Broccoli Boy, Who is Steve Jobs, The Land of Stories, Matchbox Diary, Malala and Iqbal, The Adventures of a South Pole Pig, and Captain Coconut.
It was the same format for Secondary – and the books they had to read were – Magisterium : The Iron Trial, Through the Woods, My Life as an Alphabet, Run, The Boundless, The Boy on the Wooden Box, Itch, and Heap House.
After eight rounds – yes, eight – rounds each for Primary and Secondary, it was finally time for Pizza! Pizza and sodas for our hardworking novel crunchers!
There was some time to mill around and take pictures with new and familiar friends, before it was time for the Prizes.
Our teams may not have won this time, but we had a lot of fun in the process and on the day!
Our learners displayed the characteristics of being a 'Rigorous Learner' today – they challenged themselves, gave it their best – they were relaxed yet alert and they were fully engaged in this Novel Knockout experience! 
Here is what our participants had to say about the Novel Knockout experience –
'I would do it again,' Jonathan Chin, 8N
'I enjoyed how it was structured, with rapid-fire questions,' Jachym Jarkulisch, 8N
'I liked how it wasn't just like the book week quizzes. There was strategy involved – either you did the Socrative questions on the iPad or the envelope questions,' Maximiliaan Marichal, 8N
'It was a fun experience,' Samantha Guillouet, 8X
'It was challenging,' Jeeahn Hur, 6N
'It was nerve-wrecking, tiring,' Aqeel Md Khaldun Munip, 6N
'I was amazed that there were so many learners. The questions were hard,' Aleeya Nor Azhar, 6E
'I was excited, confident that they had practiced,' Rahaf Sherif Ibrahim Abdou Desouky, 6E
'It was exhausting, quite fun…the limited time and the questions were kind of hard,' Sena Jung, 6E
A big thank you to Mr Peter Rider for giving us constant support, encouragement, and use of the Main Library for our CCA!
Join us next year for the Novel Knockout CCA and competition!