IB Art Exhibition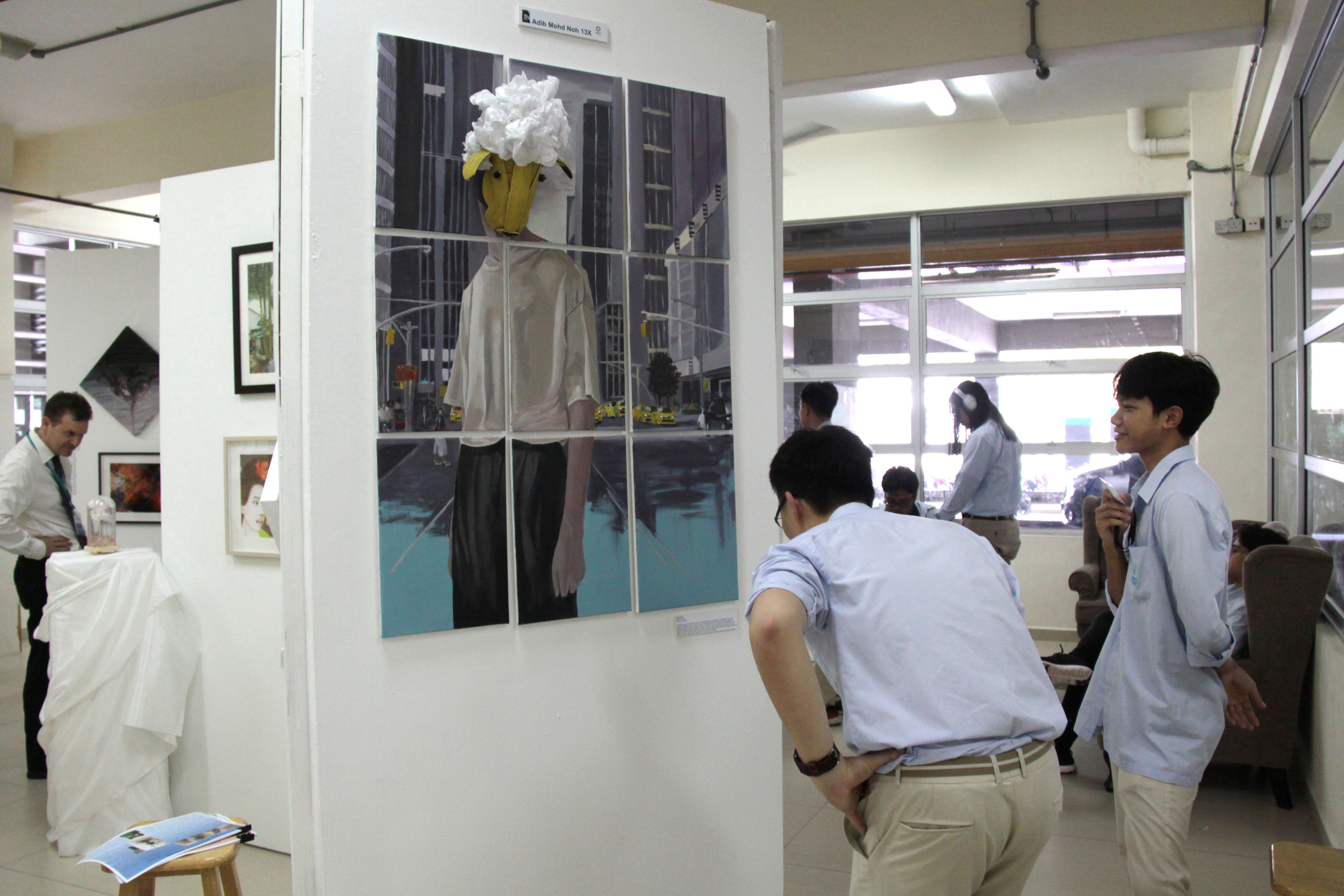 While the IB students showcase every year, the depth and complexity of the celebrations they create just seem to build from one exhibition to the next. Wandering the exhibition, the lucky viewers can't help but breathe the space for reflection, the careful evolution in each student's self-expression and the natural curiosity as part of an explorative process, which it made sense to ask them to explain further . . .
Tara's aim when creating her work was to take the audience on a cultural odyssey from her original family home in Bangladesh to her life as a student in Malaysia. Her work showcases the use of embroidery and embellishment techniques from Bangladeshi traditional textiles, a choice which has allowed her to learn new skills in the decoration of traditional fabrics. She found the generation of ideas for individual pieces was easy, but the biggest challenge she faced during the development of her exhibition was how to link disparate elements together in a way that segued with her complex sense of identity. Most proud of her piece entitled '
Portrait of Orin
', she feels that it is aesthetically pleasing in a way which reflects a 'communal self'.
Adib's work addresses conflict and adversity in the world, especially focusing on issues surrounding political, environmental and social change in the countries where he has lived, including India and Malaysia. With such a wide subject area, he found his biggest challenge was the volume of work required to develop his final pieces in such a short time frame. Experimenting with a diverse range of artistic techniques and styles over the two years, including the use of CAD, he has refocused on roots with his installation entitled '
Combustion
', an interesting challenge represented by it as he found it difficult to return to traditional artwork after spending so much time working digitally, particularly as the piece was very large.
Ivaan's interest in the conflict between humans and nature has led her to an ever-deepening exploration of the destruction of the natural world in her oeuvre. She wanted to focus on an issue of global significance, and her love of drawing nature allowed an easy development of her chosen theme. Whilst teased by the time constraints, she acknowledges that facing the challenges of such a large project has given her the confidence to take risks and to use new media and techniques. She most enjoyed creating her photograph with body art entitled '
Anthropocene
'.
Wafa's work explores emotions through the use of different media and was influenced by her love of reading and listening to lyrics. She challenged herself to try a wide variety of techniques and mediums during the development of her artwork, which made for a longer-term process - with most of her final pieces being completed in year 13. When putting her final exhibition together, Wafa struggled to connect all her work together visually, a process which required a lot of additional research and reflection. She is very happy with her piece entitled '
Noir
', which was created using powder, movement and photography to express the idea of freedom from darkness in the mind.

This was a show not to be missed but also one which would deservedly travel beyond the walls of Nexus. Watch that space for the next chance to breath creativity deep . . .