Nexus Alumni Help Underprivileged Secondary Students During Pandemic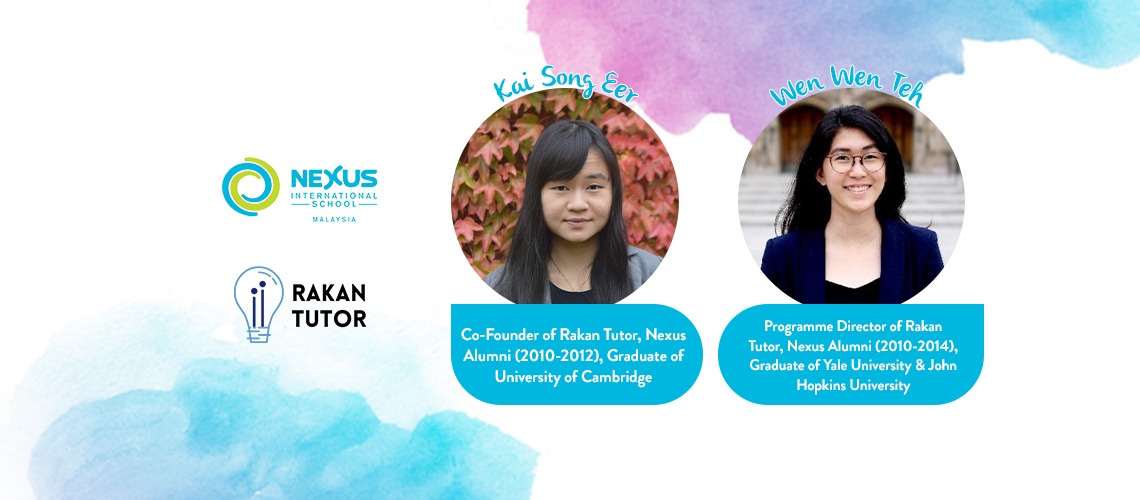 Nexus alumni Kai Song and Wen Wen, who were both scholarship recipients at the school, have recently founded a non-profit organisation, Rakan Tutor. Kai Song is a former Mckinsey London consultant currently working in an early stage edtech startup in Malaysia. She is passionate about education access, and has previously founded CollegeLAH, led a pro bono consulting project for Teach for Malaysia and volunteered with Myanmar refugee education centres. She holds a MEng Information Engineering from the University of Cambridge. 

Wen Wen on the other hand is a research associate at J-PAL North America, an economics research center based at MIT. She's passionate about evidence-based policymaking for poverty alleviation. She previously started CollegeLAH, led a pro bono consulting project for Teach for Malaysia, and has experience tutoring refugee children. Wen Wen holds an MA in international and development economics from Yale University and a BS in neuroscience and economics from Johns Hopkins University.


About Rakan Tutor
Rakan Tutor, is an NGO offering free one-to-one tutoring to underprivileged secondary school students in Malaysia who have suffered learning loss due to the pandemic. They are currently recruiting SPM Math volunteers and are looking to tutor 250 students who are left behind especially in rural areas in Malaysia to get a better shot in education. 

How to Volunteer
To volunteer, you need to have completed IGCSEs (or equivalent) and scored at least an A- in Mathematics and commit 2 hours per week for a minimum of three months. Join them on their mission - you can find out more at http://rakantutor.org/ or reach them at kaisong@rakantutor.org

Global Citizenship - the Nexus Way
Nexus International School Malaysia is an internationally minded community which focuses on nurturing learners to become globally responsible and educated citizens. Nexus empowers learners through the Nexus Way, which consists of four elements – Relationships, Inclusion, Innovation and Mindsets. It is the foundation and philosophy that reflects in our teachers and learners; a learning environment that is innovative, progressive, and grounded in trust, compassion, and respect. 

Kai Song and Wen Wen's story demonstrates how Nexus and its education philosophy nurtured them into becoming the changemakers and responsible global citizens they are.