Nexus Global Goals Action Day 2019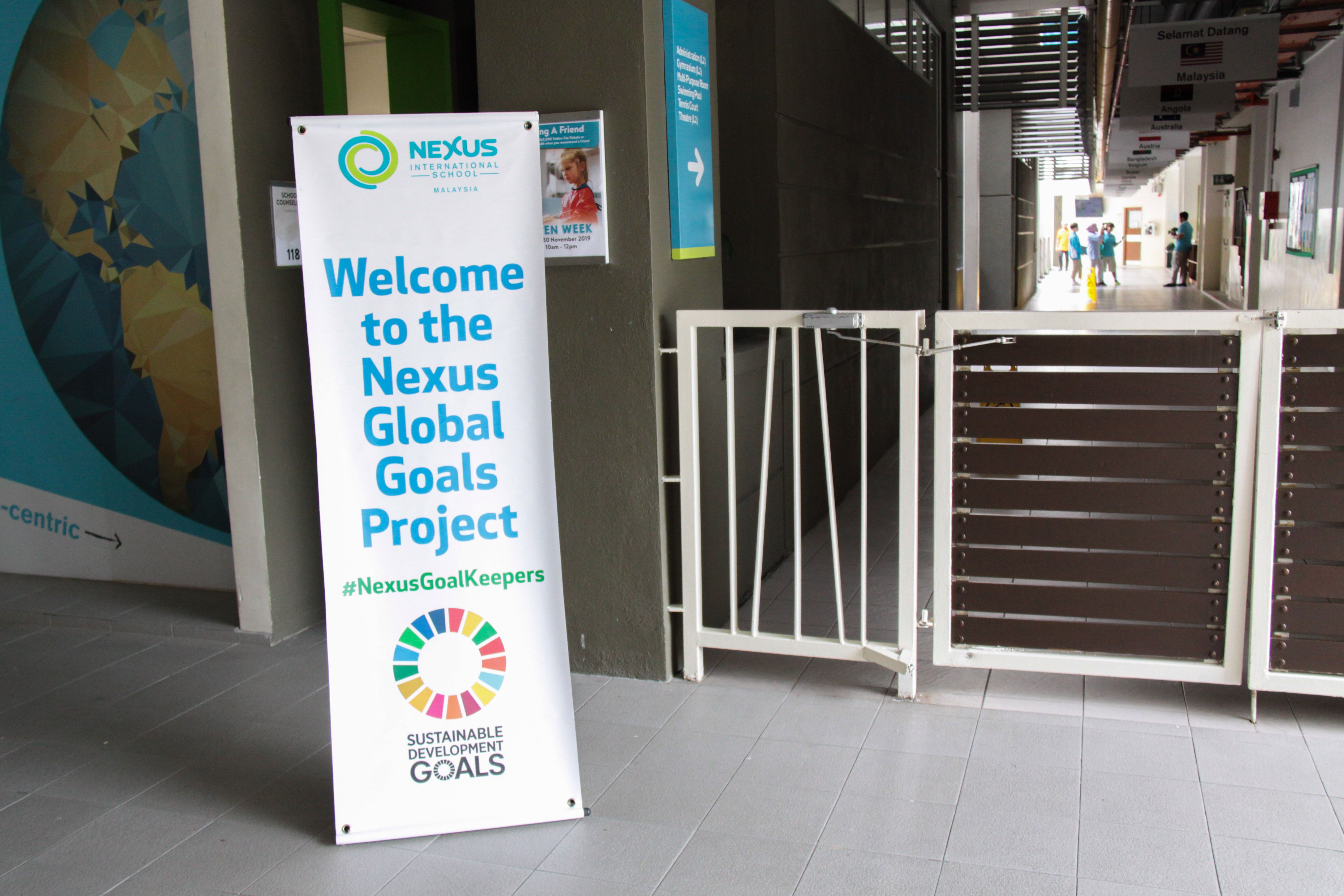 More than 800 volunteers which included students, teachers, staff members of Nexus International School Malaysia as well as visitors came together to promote and take action towards sustainability during the recently concluded 5th Nexus Global Goals Action Day.
The event was part of the Nexus Global Goals Project led by Nexus Curriculum Enhancement Director, Ainslie Dann. The objective of the project was to address all 17 UNSDGs via a variety of activities, conducted either at or outside the school premises.
Students and teachers signed up to participate in one of the 24 activities that were happening concurrently within and outside the school. All activities aimed to create awareness of the SDGs among learners and encourage them to contribute to sustainability. The project also set a platform for students to adopt new skills and prepare for the uncertainty that awaits them in the world they are going to enter.
Edible Garden
Teachers, parents and learners came together to start an edible garden. An organisation specialised in gardening came in to work with the community. Volunteers worked the soil using compost. The idea is for the garden to reap vegetation which can be supplied to the school canteen as well as for students to have a fun outdoor garden lesson every now and then. 
Beach Clean-up
More than 80 volunteers participated in the beach clean-up activity at the Tanjung Tuan Beach, Negeri Sembilan. The initiative was sponsored by the Ministry of Tourism. 
Making Orang Asli Mothers Independent (MOAMI) - Working with the Orang Asli
A group of learners travelled to an Orang Asli village called Kampung Tekir at Negeri Sembilan. They worked with the community to initiate and implement ideas for reusing waste, such as building a playground, creating art pieces and mural. 

Global Goals Languages Workshop
The aim of this workshop is to raise awareness about the Global Goals among the multilingual audience. Learners researched Global Goals in their mother tongue, and produced a multilingual video to advocate sustainability around the world. Languages in the video included Malay, Korean, Portuguese, Italian, Russian, and English.  
Nexus Community Fundraising
Learners brainstormed fundraising ideas to support charity activities which include sports, baking, science experiments, and artwork for refugees. In the past, volunteers sold Christmas cards and opened booths in the school to raise money in order to support these activities. Organising fun and educational activities for refugees has helped students improve their communication skills as they learn how to interact with people with various backgrounds. 
Sustainable Fashion - Online Swap Shop
Addressing the 12th Global Goal which is Responsible Consumption and Production, the 'Sustainable Fashion - Online Swap Shop' got learners to create an online shopping portal for the Nexus Community to swap clothes, purchase second hand and donate clothes for charity.  The team will also be selling the donated apparel during the International Baccalaureate (IB) charity week set to happen in the first week of December. Money raised will go to charity. 
Sustainable Entrepreneurs
Learners got into groups to discuss business plans which sell sustainable products. They were guided to research the feasibility of the products, costs, advantages, disadvantages, and marketing plans. 
Designing a Nexus 'Zen' space
Learners in this activity drew out a plan to create a 'Zen' space at the school, more of a place for students, teachers or staff members to get some quiet time for themselves, do introspection and retrospection, and detach themselves from the demanding and fast paced world, when they want to. 
The room is set to be equipped with adult colouring books, calligraphy artworks, cosy bean bags, and soothing music. Tech gadgets which include phones and iPads will not be allowed into the space.
Do your 'bit'
Addressing the 14th UNSDG, 'Conserve and sustainably use the oceans, seas, and marine resources for sustainable development', learners investigated fishing problem of bycatch. They programmed microbit by incorporating properties of light and sound, in hope to solve the bycatch problem. This is because it has been scientifically proven that certain frequency of light and sound can detract unwanted fish. 

Energy & Water Audit
A group of learners got together to come up with a set of questionnaire to audit the usage of energy and water in the school. The questionnaire was shared with the whole school and based on the results, recommendations were given to the school management to use energy and water more responsibly. 
Sustainable School Policy Writers
Learners discussed the overall school policies and identified grey areas where policies related to sustainability can be included. This were things such as minimising waste, recycling, efficient use of power and waste, etc. The group of students then came up with several policies which could potentially be added to the existing one. These policies will be presented to the management for approval.
Year 8 Plastics Campaign Planning
Nexus Year 8 students pledged that by end of May 2020, they would come up with a project to address the single-use plastic issue in the school. They have planned out campaigns and activities such as beach clean-up. The  group of students will also be raising money to support a workshop by a third party organisation who would teach creative ways to reuse plastics. 
Recording a Charity Single
Learners got together to produce two covers which will be sold, and the money will go for charity. 
Reusable Wax Wraps
Learners created reusable wax wraps using fabric and organic beeswax (edible) to replace single use plastic wrapping. This can be used to wrap food, presents, pack soap and toiletries when travelling. Sheets can be washed after use. The lifespan of every sheet is approximately 1 year, provided it's not exposed to extreme hot temperature, or the wax can melt. So, users must be careful to let the food cool down first before wrapping them. The wax wraps will be sold during the charity week in the first week of December.  
Soap Making Workshop
Learners made soaps from organic ingredients namely goat's milk, lavender, jasmine and lemon essential oil. Soaps will be sold at the IB charity week in the first week of December.

SPCA Pet Care Programme
The Society for the Prevention of Cruelty to Animals (SPCA) Selangor is an animal welfare organisation based in Ampang Jaya, Selangor. The aim of the SPCA is to protect defenseless animals and to alleviate their suffering. Nexus Learners became volunteers for the SPCA after completing a Pet Care Programme in learning the correct way to handle and care for animals.
Upcycling and Repurposing Old Furniture
Learners found ways to breathe new life into damaged or well-worn pieces of furniture that nobody wanted, using creativity to make practical and stylish pieces that can be used again. 

Vegetarian Cooking
Vegetarian cooking workshop was conducted to teach volunteers how to cook delicious and healthy vegetarian meals.
About Nexus International School Malaysia
Established in Putrajaya in 2008, Nexus International School is a member of the Taylor's Education Group, which encompasses some of the largest and most successful international schools in Malaysia and Singapore.
Nexus International School caters to students from early years to pre-university and offers the International Early Years Curriculum (IEYC), International Primary Curriculum (IPC), IGCSE, and International Baccalaureate Diploma Program. Its current enrolment is approximately 650 students from over 30 nationalities. In addition, the Nexus Boarding House provides boarding facilities for 10 to 18 years old.
Nexus International School strives to create in its school an inviting place, in which human respect and values are balanced against academic rigour, and where learners are encouraged to realise their potential and to respect their own unique worth as well as that of others.
For more information and pictures, please drop an email to
maalinee.r@nexus.edu.my
or call 03-8889 3868.