Nexus News
Hulu Langat - Bronze Practice Expedition Nov 5/6th 2016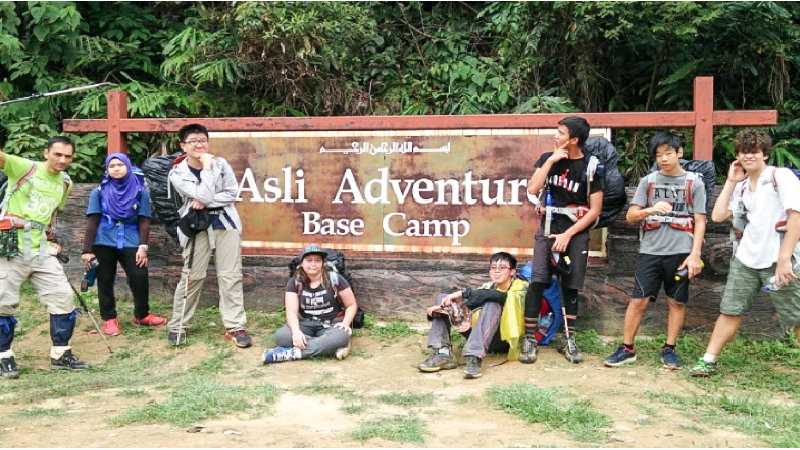 How happy and energetic we were on our way to Hulu Langat, smiles, singing and excited chatters of what we would see. The drastic change of eerie silence on our way back to school, most people were sleeping if not silent. What had actually happened to make us this tired? 

Leeches, bugs off all sorts, dense paths, branches slapping you in the face constantly and many others. We had to push ourselves physically and mentally from walking the extra kilometre or 2 or actually hiking up that 75 degree slope in thick mud constantly worrying if we were going to fall. Exhausting would just be one of the many words I would use to describe the trip. Since this was, for most of us, our first time going on a trip like this we had no idea what to expect.   Obviously we had expected to do a lot of physical work but what we actually did was way harder and this included learning crucial new skills and more importantly learning to appreciate nature more.  
One of the biggest issues we had before the trip was packing, we were not able to place everything in our bag and each and every one of our bags had a different weight making some bags heavier than others. It was a nightmare trying to pack.

Once we were all out of the bus and the delightful air-con, our IA bronze practice had officially begun. We started the day with a 1.2 kilometre moderate hike to our campground. Once we arrived at our campground we were told to take everything out of our bag and then to repack it. Once we had repacked we were shocked to discover that we actually still had some space left.  Since we had 7 people and 3 tents we decided that 3 people were to carry the tent poles, 1 person was to carry all the tarps and the other 3 to carry the rest of the tent. We also decided that whoever carried the poles had to also carry the tranjia's (cooking stoves). Then we equally divided the food, but our bags stilled weighed a ton, I'm guessing around 15-20kg which we had to carried during the hike.  

At the beginning it was easy as there were not too many steep parts and the path was nice and wide. The only issue was that we were the ones who had a GPS and map and we needed to follow a trail and sometimes there was more than one path and it was confusing which trail we had to take. My team took some breaks when we needed them.  About half way the trail started becoming really steep, dangerous and slippery with some trails having a 75 degree gradient. We met some dogs along the way that were playful yet kind of scary at times. We were all very relieved when we finally made it to the waterfall.  We happily ate lunch there and relaxed a bit with what time we had left. It started raining later on so we had to cut our time short and cover our bags and ourselves in either raincoats or ponchos. We all looked hilarious.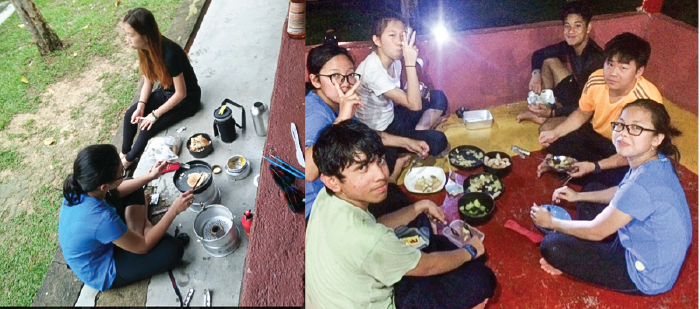 Our trek back was easier because most of it was downhill but that resulted in some people falling over, but as a team, I felt we helped each other well. Once we arrived back at our campsite we had to set up our tents which was relatively easy because we had practiced it beforehand. Then we had 2 lessons, one about how to use and read compasses and the other about L.N.T. which stands for Leave No Trace. In the L.N.T. lessons we learned what we should do while in nature and about how to respect and appreciate nature more. This was really meaningful to us.  Once we had completed our lessons we could finally take a shower which, by the way, was not very pleasant at all.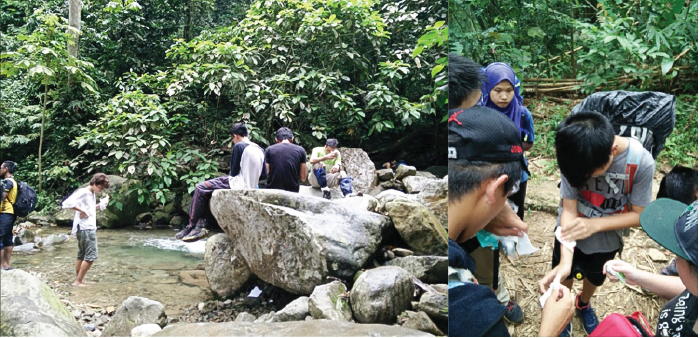 After we had a shower we made dinner.  Team 1 made pasta and cheese, omelette with tomatoes and bok choy. Team 2 made chicken sausages and potatoes. Both our dinners were nice but halfway through cooking it started to rain and all our food and cooking utensils were at the edge so we all had to stand on a ledge and cook the food which was slightly uncomfortable. After dinner we had another 2 lessons one was about first-aid and CPR the other was about how to tie different types of knots and what they are used for. Then only after that we were allowed to go to sleep it was already 10:40 and lights out was at 11:30.  What an exhausting day!

The next day we had to be up by 7am then we had to make breakfast. Team 1 made omelettes and some of us were preparing lunch which was Nutella and tortilla wraps. Team 2 made pancakes. After we finished we took down our tents and packed our bags. We started our second trek by 9 am. We knew that this trek would be easier than the previous day, but the main issue was that a lot of us had shoulder, back or foot pain. We walked along the road for about half the trek then we arrived at the entrance for the trek which would take us to the tallest mountain in Selangor. While walking up the path my team somehow took a wrong turn and had to go back.  We thought the path we took would be the most obvious one to follow, but were obviously wrong. We went back to find our path and once we had found it we were a bit skeptical because it looked like it was a path that no-one had used. We went through the path each step leading us deeper into the dense jungle, some parts of it were really tight and we kept constantly getting hit by branches at one point one of the team members in team 2 had a ladybug that flew into their ear. My team, Team 1 had to take a break for a long time at one point because one of our team members were feeling ill. This taught us that we need to look out for each other and make sure we are everyone in our groups has had enough to eat, we also learnt that if you feel ill or starting to feel a cramp you need to speak up so that we can help you.
We continued on our trek, constantly looking out for leeches until we had finally reached the dam where we ate lunch. We were all checking ourselves for leeches, as there were lots around here, and lots of us had been bitten by leeches and mosquitos in the end. It was really bad. After that, we continued walking and we soon reached where we thought the end was and we were all so relieved. However, unknown to us we still had to walk another 2 kilometres to get to the bus. We walked feeling exhausted and happy in a weird kind of way, knowing that it was nearly over. Once we reached the bus most of us immediately fell asleep exhausted and in pain longing to get back to school. I learnt that you never know how mentally and physically strong you are until you are in a situation like this.  
By Caylyn Pooler 10E