Exhilarating Fun For Young (& Old)
Last Saturday afternoon Mr Troy and Ms Bobby took us boarders to the EnerZ Extreme Park in Subang Jaya. As soon as we set our feet in the Extreme Park, excitement flooded through our veins. We were all assigned to a coach who made sure that we warmed up before continuing with the fun activities.
There were many types of trampolines and the first one that we visited was the purple coloured trampoline where the coach taught us how to do multiple types of jumps such as the kneeling jump where you land on your knee and lift yourself back up, the twist jump where you turn in the air, and the falling onto your back and then landing on your feet (which even Mr Troy did with ease).
We were then led to the Foam Pit where we attempted to do a front flip and a back flip into the soft landing area of foam. We then had to free fall about six foot into a pool of sponges which tested our fear of heights. I found this activity to be relieving as it allowed me to release my worries and thoughts for a speck of a moment.
After a well earned drinks break we were allowed to do anything we wanted and explore the park so me and my friends tried 'The Gladiator' where we hit our friends with inflated jostling sticks. We then finished on 'The Meltdown' where we had to duck and dive as two padded bars swung from left to right in an attempt to knock us off our platform. It was literally the last person standing was deemed the winner.
Hunger struck us after trying all these fun activities and there was a mamak restaurant inside the building so me and my friends filled ourselves up with delicious authentic Malaysian cuisine before we headed back to boarding. It was a really fun activity and I do wish that we will pay another visit to the Extreme Park again soon.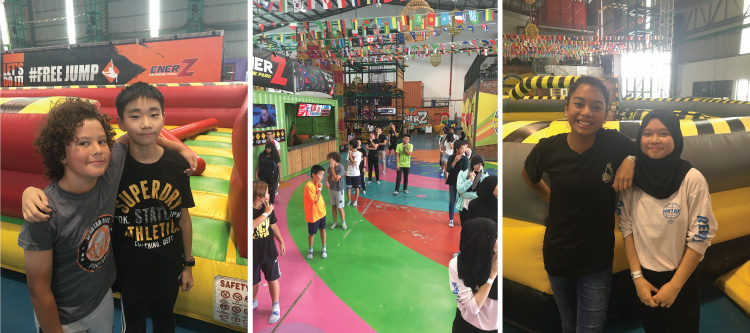 Written by Jassylyn - Year 9