Term 2 Week 3 19/20
Our weekend before mid-term break began with an early morning bike ride followed by a session in the fitness suite for those that wanted to workout indoors.
The main activity however was a trip to 'EnerG X Park' where there were many different challenges for everyone to try. The boarders got heavily involved in all of the games that were available to them. Some tried to perfect their dunking skills on the trampoline basketball while others tested their head for heights by doing the leap of faith, and some challenged their coordination by doing the total wipeout course. By the end of their time everyone was well and truly exhausted and there were several people with heavy eyelids on the journey home.
Saturday was rounded off with an evening swim that turned into more of a water volleyball competition.

An early start on Sunday for our year 10 and 11's (and year 13 boarder Park) with a visit to the Tzu Chi Recycling Centre. The boarders worked hard to help separate the recyclable waste and some had the important job of demolishing items before putting the components into piles of wood, plastic and metal. A very industrious morning of work.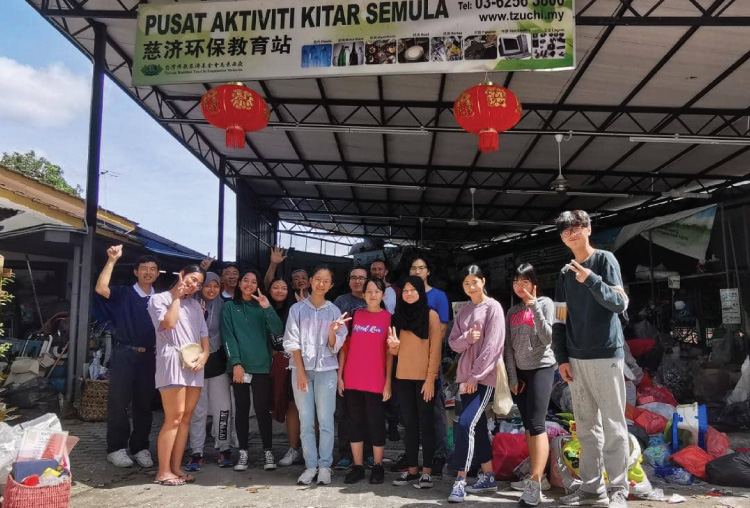 Our house basketball competition commenced and the sports hall was full of players and spectators. Xiaolongbao defeated Kimchi Gang by 37-25 in a hotly contested battle, while a match was arranged for our primary and year seven boarders as well.
Finally, on Wednesday night our Boarding Council organised an enjoyable evening as we celebrated the upcoming Lunar New Year with each other.
Dream presented us with an insight into why Lunar New Year is celebrated, and then Zoe and Dening ​shared a beautiful musical piece called 大团圆, meaning 'Reunion'. Following the traditional tossing of noodles, which is known as Yusheng or Prosperity Toss, a full Chinese buffet dinner was served.
To complete the evening some boarders nibbled on snacks as they settled in to watch Karate Kid in the common room, while others took part in Chinese paper-cutting which conveys ​wishes for wealth, health and longevity.