World-beating IBDP Results


Nexus International Malaysia is extremely proud to be ranked as Top 2% Global IB Schools in the World and Top 50 in Asia according to Education Advisers Ltd (see www.IB-Schools.com), cementing its position as the Top IBDP School in Malaysia. The International Baccalaureate Diploma Programme (IBDP) is the World's fastest growing curriculum with more than 5400 schools having adopted it to date.

Nexus achieved an outstanding average Value Added of 4 points per learner, placing the school in the top 1% in the world  for progress made by learners. This is true to the school's philosophy - every learner achieves at Nexus.

We also celebrate individual achievements and notably two learners, Caryn Chan and Ju Eun Bae, achieved a perfect score of 45 points. Typically only about 150-200 students in the world achieve this score every year, which puts Caryn Chan and Ju Eun Bae amongst the top in the world with access to the best universities and pathways.
2021 - The Best IB Diploma Results
16 out of 35 of our graduates achieved more than 40 points - more than quadruple the world average. This year's cohort of 35 students also come from 9 different nationalities namely from Malaysia, Korea, China, Belgium, Italy, New Zealand, United Kingdom, Yemen and Bangladesh, which offers a truly international experience for learners.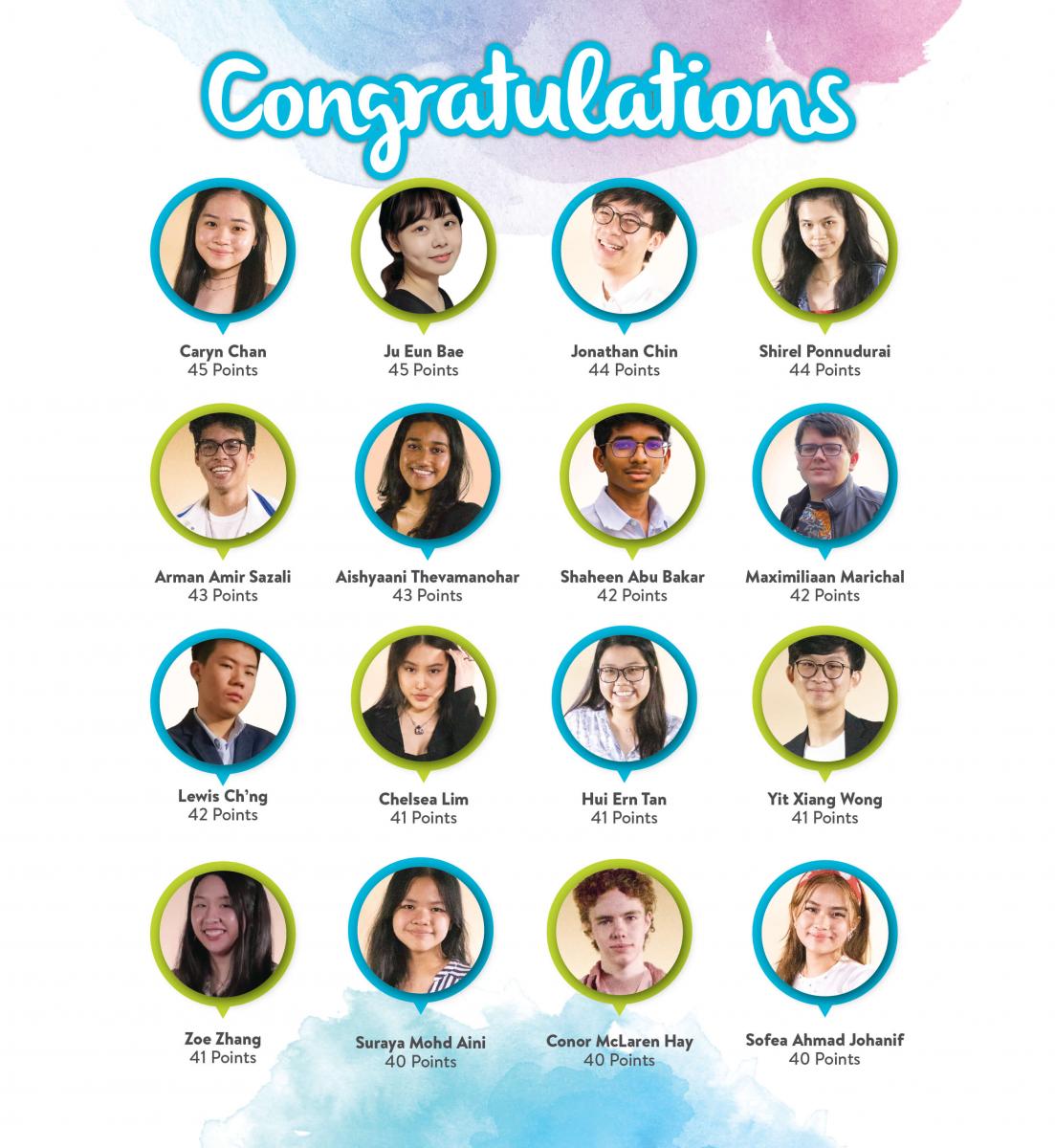 Boarding adds to the benefits of a Nexus education with 30% of the top achievers being part of our boarding community. Nexus boarding is ideal for exam year students, offering a good routine, balanced lifestyle, peer-to-peer and expert teacher support.
Nexus IBDP Results at a Glance
Nexus is extremely proud of our IB Diploma graduates who persevered throughout the COVID-19 pandemic and reached these milestones.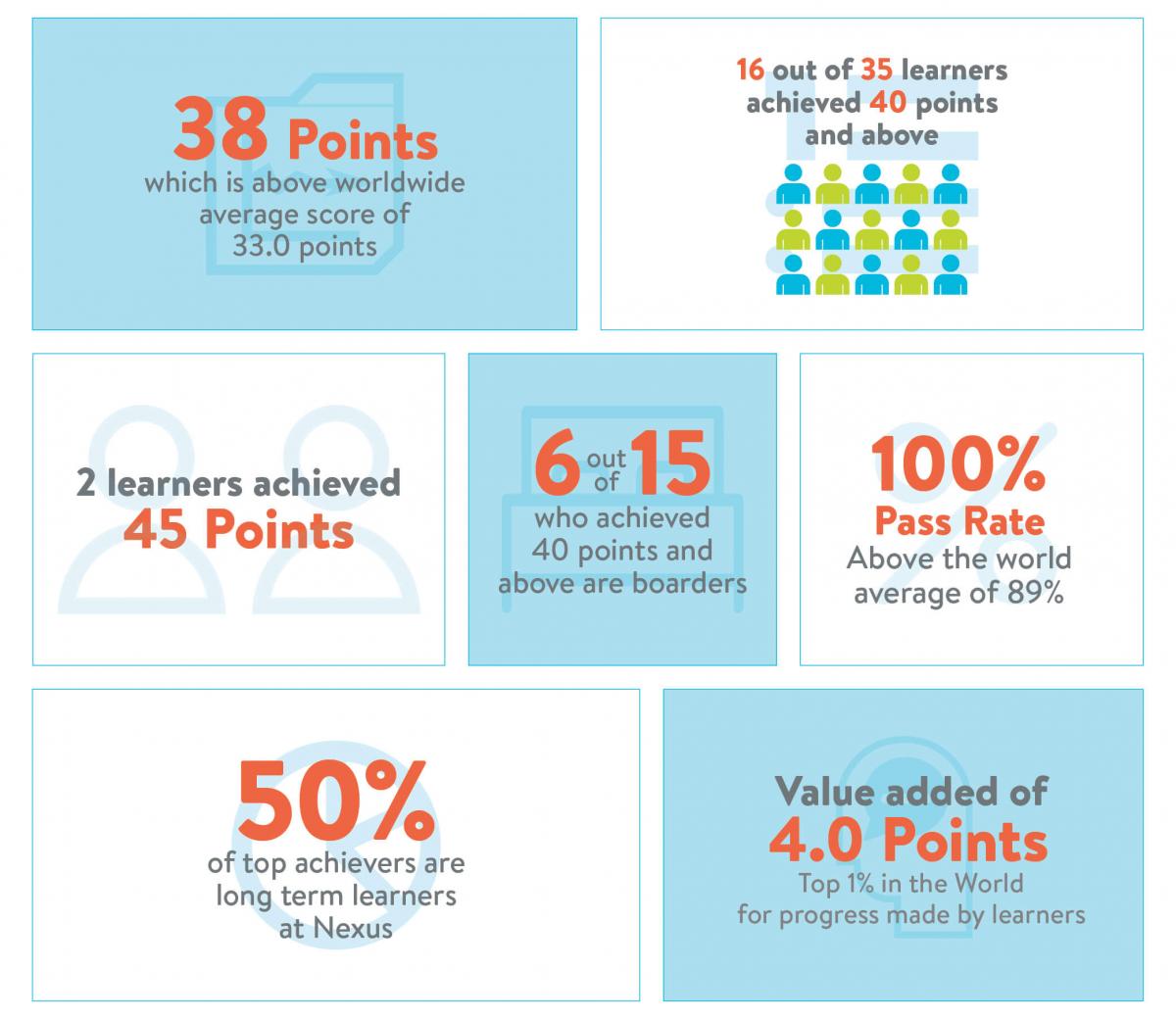 "Constantly attending, and often facilitating professional learning, our expert teachers are highly experienced in providing the individualized mentoring and support that our IBDP learners require and deserve throughout their 2-year pre-university course." says David Griffiths, Principal at Nexus.
Nexus learners also receive dedicated 1:1 support from a Higher Education Counsellor for their university and scholarship applications as well as career guidance. In the past years, Nexus learners have been accepted to top universities around the world such as Imperial College London, University of Melbourne, University of Warwick, University College London, University of British Columbia and many more. Indeed, the IB programme at Nexus provides a clear pathway for learners' universities of choice.
Watch our 2021 Virtual IBDP Graduation Ceremony held recently to celebrate the success of our graduating cohort.
About the IB Diploma Programme
The International Baccalaureate® (IB) Diploma Programme (DP) is for students aged 16-19, recognized and respected by the world's leading universities. Evidence suggests that higher rates of IBDP students go on to university, are more likely to attend a top 20 university and achieve a first-class honours degree. The IB Diploma Programme is made up of six subject groups and the Diploma core, comprising Theory of Knowledge (TOK), Creativity, Activity, Service (CAS) and the Extended Essay (EE).
Through the IB Diploma core, students reflect on the nature of knowledge, complete independent research and undertake a project that often involves community service.
 
View IB Diploma Results 2020