Nexus Achieves Top IGCSE Results
We are proud of our Year 11 class of 2020 who have achieved excellent results in the IGCSE 2020 examinations with two learners achieving 10A* and one in every four learners scoring 9A*/A and more.
The cohort achieved a 100% pass rate with 26% of learners scoring a phenomenal 9 or more A* or A while half the cohort achieved 5 or more A* or A. Meanwhile, 96% of all grades received were between A* and C and and nearly 89% of learners achieved an A* in at least one subject.   
In the meantime, 51% of all grades achieved were A*/A which is double the global score. 
Fast Facts about IGCSE 2020 Results

IGCSE 2020 Top Scorers - 10 A*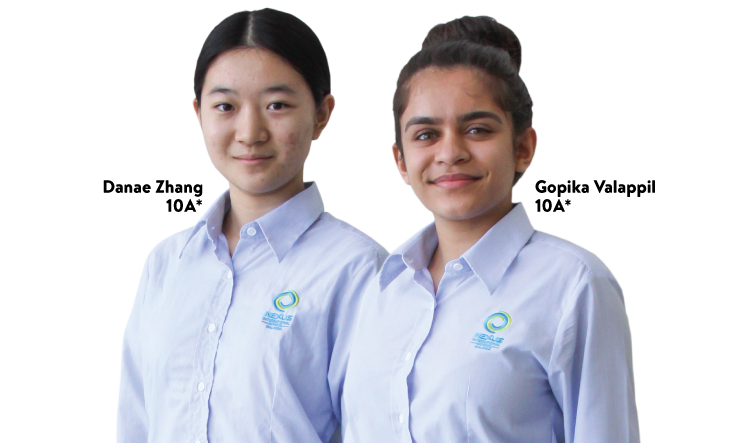 Two Nexus learners Danae Zhang and Gopika Valappil were among the top in the nation with a score of 10 A*. 
Gopika who is from the UK has been with Nexus for more than 4 years. She attributes her success to the extensive support that Nexus teachers provides in preparing their learners for their exams. 
Danae Zhang on the other hand, hails from China and has enjoyed the openness and positive learning culture at Nexus. She is especially proud that, as a non-native speaker, she achieved an A* in English First Language. 
Both learners will continue at Nexus and sit for their IB Diploma.
Nexus is especially proud of its learners who have kept a strong mindset throughout the year and during the unpredictable phase of the pandemic. Guided by the Nexus Way, our learners continuously strive to be better and their results are a testament to what they have learnt. 
Well done to all learners and their teachers for the hard work which led to this success and to the parents for their support.
View 2022 IGCSE Results
View 2021 IGCSE Results