Nexus News
Building an Invention that Serves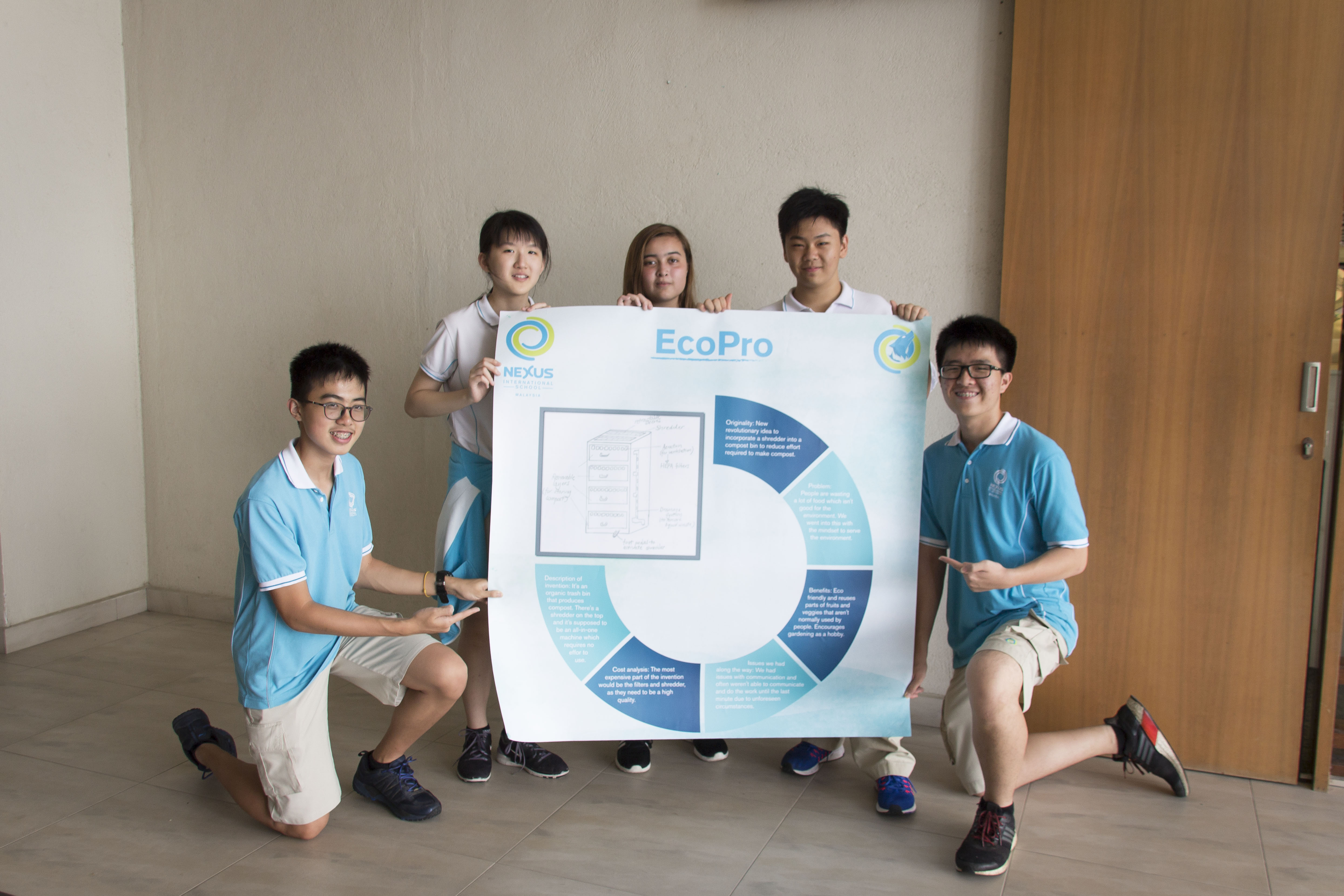 Southeast Asia's brightest minds returned for another year of Young Inventors Challenge 2017 (YIC). Themed 'Inventions to Serve', this year's competition united 117 teams of secondary schoolers from Malaysia, Indonesia, Singapore, Thailand and Philippines to create an invention that serves the wellbeing and welfare of humans, animals and the environment.
Nexus' secondary school teacher and YIC mentor, Mr Lloyd Adam Johnson, believes that our participation at the YIC allows our learners to express their ideas and overcome everyday problems in the most creative way. "We saw YIC as an opportunity to put our scientific minds together and produce a product that can help others," Mr Johnson says. "We started off looking at personal and everyday problems. A lot of ideas were thrown together, but everybody is passionate about reducing and reusing waste in an environmental-friendly way".
Learners Jing Hui Tan, Samson Yi Lai, YuanSheng Goh, Caylyn Pooler and Audrey Low came together to contribute an invention in this year's YIC. After a series of brainstorming sessions, our learners invented 'Eco Pro' that functions as an everyday mechanism that turns everyday waste into compost. "We created a special organic trash bin that makes compost," the team begins. "We incorporated a shredder on top of the bin to shred any organic matter until it becomes small enough to be composted". The goal of their invention is to improve the state of our environment and the world at large. "With Eco Pro, we want to stop the devastating effects of greenhouse gases through a simple yet effective method," they explain. "It would not only serve and encourage botany and gardening but also decrease the use of landfills".
Aside from encouraging our learners to make a significant contribution to science and innovation, the YIC also provides a platform to meet and network with other young inventors who share similar interests. "It was very interesting and exciting, seeing other schools with their amazing inventions," the team shares. "Some inventions shocked us as they were extremely creative and innovative".
For Mr Johnson, the YIC also gave a positive space for learners to cultivate their interests in learning and growing as an individual. "The learners gained a lot from this experience," he shares. "They grasped the value of teamwork and collaboration and improve their communication skills when presenting and sharing their ideas".
There's no rest for Mr Johnson as plans are underway to make next year's YIC participation a success. "I have learned a lot about the competition and what is required to be successful," he shares. "Putting the invention together took longer than anticipated, so creating a timeline and planning forward will be the two points to improve. Additionally, this year's team will serve as ambassadors for the next year's group, so they can give advice on inventions to come".